Hotels near
Causeway Bay
As well as the many hotels within Causeway Bay itself there are also many close by, some in walking distance, which would be quite suitable to still allow you to enjoy the district, but perhaps have some different options.
Conrad Hong Kong - One of the leading hotels in Hong Kong this purpose built modern tower hotel is located in Queensway, with the green Hong Kong Park on one side, the luxury Pacific Place shopping mall on the other, and within walking distance of the busy Central business district. Just two stops on the clean and modern MTR underground railway system from Causeway Bay it is a great choice for those in Hong Kong on business who still want to make use of the shopping and dining options in Causeway Bay. website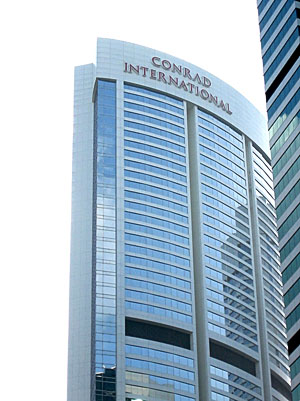 JW Marriott Hotel - Of the four Marriot hotels in Hong Kong it is this one, the JW Marriott, which is best suited for good access to the Causeway Bay district. Located adjacent to the Conrad it shares many of the same advantages in transport and location. A true 5 star hotel it still manages to be slightly more affordable than some of it's neighbors, while still maintaining the excellent service that it is famed for. website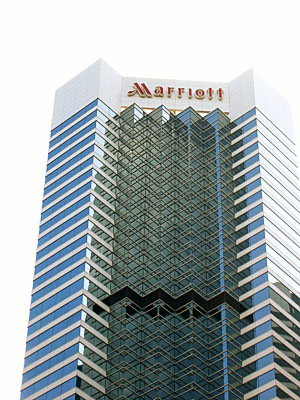 Grand Hyatt Hong Kong - Located on top of the Convention Centre on the waterfront in Wanchai District just to the west of Causeway Bay this luxury 5 star hotel offers accommodation of an impeccable quality for all visitors. Modern luxury bathrooms feature deep bathtubs and modern fittings. glass walls separate the bath tub from the rest of the bedroom area, with pull down blinds for privacy. Walk in showers with glass walls offer a complete range of choices. The outside swimming pool features an organic shape and a waterfall, all well above the traffic though below the main hotel tower. Well stocked with green trees and palms this outside area feels like a real luxury garden despite being many floors above the street. website
Beyond the harbour area itself there are many other hotels in Hong Kong, see some more here.